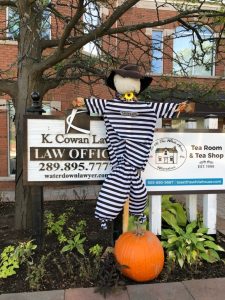 The 2019 Waterdown Scarecrow walk is just around the corner.  K. Cowan Law is participating for its third year in the event.  There are prizes to be won from the Waterdown Village BIA.
While we don't practice criminal law at K. Cowan Law, we do practice primarily in the area of Family Law.  We offer both traditional litigation services and other forms of dispute resolution such as collaborative family law and mediation.
Our Scary Scarecrow, was inspired by Kanata's recent trip to Alcatraz.  This past Summer Kanata attended the American Bar Associations Annual conference of Bar Presidents in San Francisco as a delegate from the Hamilton Law Association as she is currently the Vice President.